We Have The Right Equipment To Handle Restoration In Your Dallas Home
2/21/2019 (Permalink)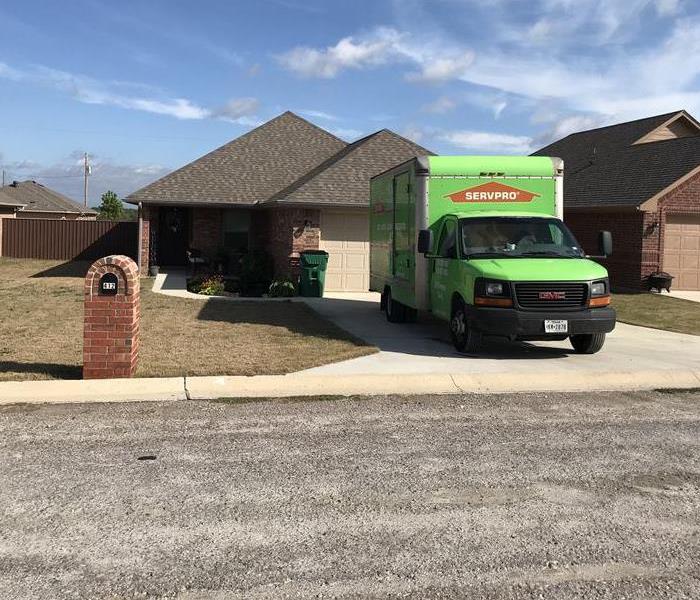 Our trucks show up on time and carry equipment needed to restore your home of any damage big or small. We are available 24/7, call us day or night.
Washing Machine Failure Turns into SERVPRO Water Removal Job in Dallas
Unless it is laundry day, most people do not think twice about their washing machines. An event as small as a supply hose wearing out or improper connection to the wall can result in the potential for the spillage of more than 600 gallons requiring fast water removal to prevent extreme damage to the home. Replacing the supply hose every five years helps lower the chance of this happening.

When a laundry room in Dallas flooded due to a supply hose failure in a washing machine, the water quickly ran to adjoining rooms before the homeowner could turn off the water. The homeowner called SERVPRO and our technicians arrived within a few hours to begin the cleanup process. Since this was a clean water spill, and elimination efforts were beginning so soon after the event, there was no danger of contamination or toxins.

Because of the large area of standing water and need to get it out of the home as fast as possible, truck-mounted pumps were used to vacuum out the water. Soaked baseboards in the laundry room were pulled loose so no moisture would be trapped behind the wood. Weep holes were not necessary as the water did not affect the drywall directly.

Industrial air movers were set up to direct the flow of air up and out while the dehumidifier kept the moisture levels low in the room for complete drying. Once dry and digital detectors confirmed no residual moisture remained, the surfaces were wiped down with professional-grade antifungals to inhibit mold. Even clean water leaves a unique calling card after the fact with a distinctive odor. A ULV fogger was used to neutralize all traces of odor.

SERVPRO of Northwest Dallas is a local company available for water removal when you need us 24/7. Call (214) 361-7887 and one of our certified technicians can begin the process to restore your home to its preloss condition.
Check out the Dallas West End Entertainment District click here for more information.