When a tornado causes water damage to your Lancaster home.
9/3/2015 (Permalink)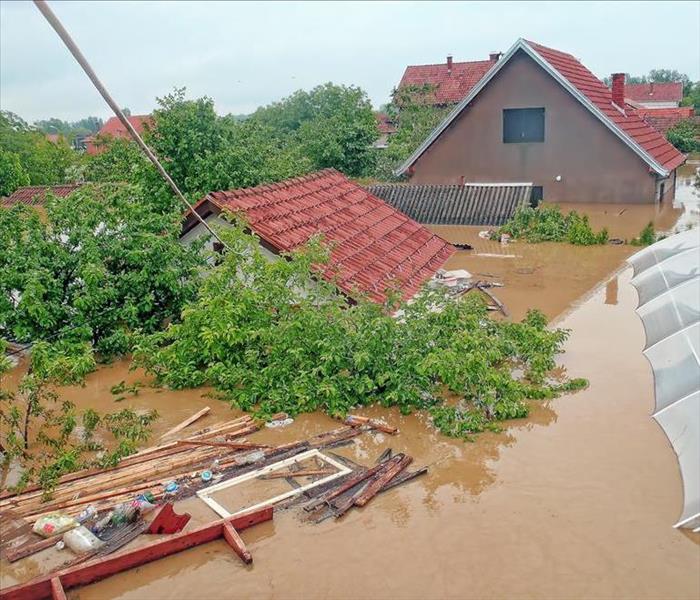 tornado's can bring large amounts of rain that can cause just as much if not more damage as the wind.

Cleaning Up Tornado Water Damage in your Lancaster home.

There is nothing quite like the horrific damage a tornado can cause to your Lancaster home. Most people might think that the wind and flying debris are the only true concerns in these storms. However, tornado's can bring large amounts of rain that can cause just as much if not more damage as the wind. Depending on just how much damage has occurred will be the determining factor in just how extensive it will be to clean it all up. In fact, water damage from these storms can be so severe and deceiving that it often cannot be seen by the average person. To be on the safe side, you should rely on the professionals at SERVPRO.

Regardless of who conducts the clean-up making sure it is done safely has to be the highest priority. With this in mind, secure all electrical power to the home or building. This way there will be no risks of electrocution. Next, make sure that anyone that will be involved in the clean-up is aware of any other hazards that may be present. These could be broken glass, sharp objects like protruding nails, or even water damaged sub-flooring that may make a structure unsafe to stand or walk on.

Now that the clean-up can be done safely, it is time to call your insurance company and have an adjuster to survey the damage. Walk around with them, and make a list of all the damaged furniture and personal items. This way you are sure to get them replaced.

After that you can get all the debris and water removed from the house. Getting the large amount of water and damaged materials can be done by almost anyone. However, water damage can get more extensive than some would think. For instance, if the walls of a home were exposed to the water damage there is a great chance it wasn't just confined to the surface of the wall. The insulation and electrical wiring may have been damaged as well. This is a reason to call on the people at SERVPRO, as they have the most experience in cleaning up after natural disasters.

Once everything has been cleaned up and dried out, the full extent of the damage can be determined and rebuilding can begin. As the insurance adjuster reviews your options of getting the repairs completed, it would be wise to remember that SERVPRO can truly show their value as they put your house back together like the tornado never happened.

We are proud to be an active member of this community. SERVPRO of Southeast Dallas County is locally owned and operated, so we're already nearby and ready to help Lancaster, TX residents and business owners with any size cleaning or restoration emergencies.

Tornadoes are one of the most terrifying natural disasters, If your home is damaged by one, call your local SERVPRO of Northwest Dallas - (214) 361-7887. They have the tools and knowledge to get your home back to where it was before the damage.