Where to Start With Flood Damage Restoration After a Storm? Call SERVPRO!
1/24/2019 (Permalink)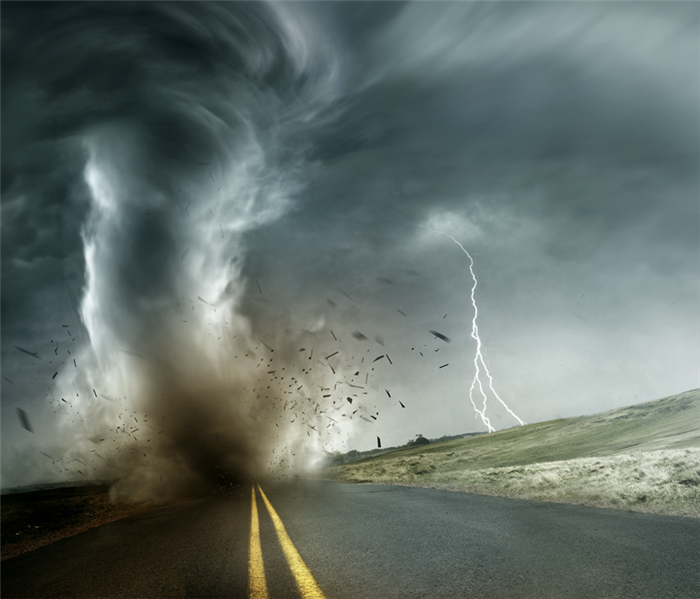 Storms and possible tornadoes are a reality of living in this area. Contact SERVPRO after flooding or storm damage to your home.
Tornadoes and Severe Storms can Allow Flooding in Dallas Homes
Dallas residents often get reminded about their proximity to the most severe portion of tornado alley that affects the entire Midwest. While there is little that a homeowner can do to prevent the formation of one of these devastating storm systems, the effect on your home can allow elemental damage like heavy rainfall and runoff to enter your house unabated. The resulting flooding requires immediate attention from trained professionals like our response team.

Tornadoes can quickly damage roofs and siding on your property, but the flood damage in Dallas that can result is often more challenging to contend with than reconstruction of exterior components might be. Our SERVPRO professionals have advanced equipment to allow us to extract floodwater from your home quickly to help make an efficient path to vital drying efforts. The faster that our experienced team can get to work on this mitigation, the less likely homes are to experience secondary damage such as mold and microbial growth.

From the moment that our experienced professionals get the call about the emergency, we prepare our SERVPRO Green Fleet of service vehicles to roll out from our facility with the equipment and personnel to help. We can offer emergency board up services and tarping services from the time that we arrive so that our other professionals can successfully extract the water and begin drying efforts without continued water penetration into the affected areas.

Our advanced equipment like portable sump pumps and gas-powered extraction machines can work to remove the pooling water from your property fast. We can then set up our drying equipment such as air movers and dehumidifiers to begin removing moisture and dampness from this area of your home as well.

While our objective is to protect and preserve materials where possible, flooding often leads to reconstruction efforts for the highly damaged regions of your home. Our professionals can work to make this transition from mitigation and restoration to reconstruction as seamless as possible.

Tornadoes might not hit your home all the time, when they do, it requires immediate attention to protect your property from flooding and other elemental damages. Give our SERVPRO of Northwest Dallas rapid response team a call today at (214) 361-7887.

Click here for more about Dallas.