Efficient and Professional Ways to Deal with Water Removal in Dallas
9/10/2021 (Permalink)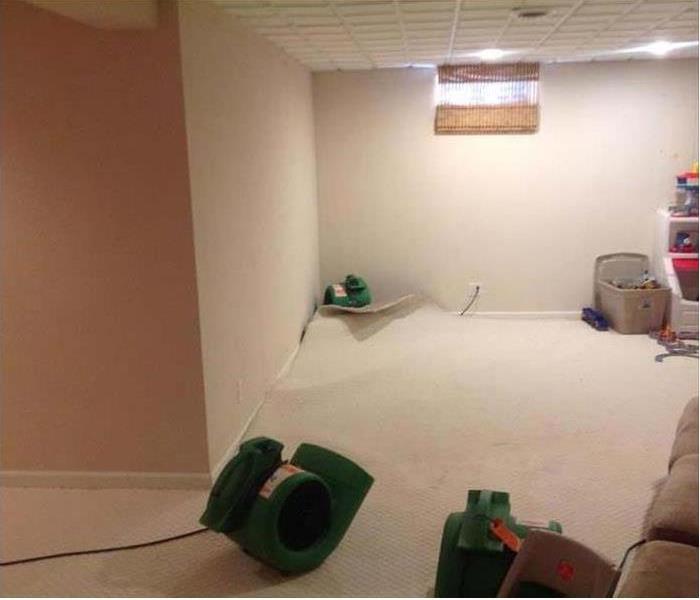 SERVPRO's experienced technicians can salvage most water damaged carpets with a "floating" technique. We help our Dallas neighbors
Water Damage in Dallas Properties Gets Mitigated with Prompt SERVPRO Service
Although it is a useful utility, water becomes a nightmare if it overflows and reaches unintended parts of your Dallas property. This might happen due to several reasons, whether it is a sewer backing up because of blocked lines, a broken drainage pipe, or even a leaking sink. What you do after discovering the unintended water intrusion matters because if left in place, the water can cause different kinds of damages. The best way to mitigate immediate damage and prevent future complications is to involve a professional.
Water removal in Dallas properties is a multi-step process that might involve fixing the source (if it is a minor repair), draining the water, and drying the property. Calling SERVPRO is better than handling all these aspects on your own because they can overwhelm you. We send a team to handle the process so that each step of the removal gets sufficient attention. Our team is also able to multitask, which helps prevent additional problems. For example, while some team members extract the water, others remove affected items. Cutting down the exposure period prevents other problems like structural damage and mold growth.
Water Removal Services
Proper removal takes more than just draining water from the visibly affected areas. If there is water inside the walls, proper dying is only possible if special techniques are applied. Our technicians remove the baseboard and drill small holes on one side of the wall. We can circulate warm, dry air into the wall cavities using air movers, eliminating the excess moisture. We are IICRC-certified and follow prescribed and proven protocols.
Draining water trapped under wall-to-wall carpets can be problematic, but our technicians at SERVPRO use proven methods to dry these areas. For example, the technician can 'float the carpet,' which is a technique involving placing an air mover under the carpet. The moving air quickens drying and helps eliminate chances of secondary water damage like bad odor or mold from developing. Pulling the carpeting from the tack strips for access can be difficult for the average homeowner. Problems like flapping can cause delamination of the fiber from the backing. Pumping too much air beneath the carpet might also stretch it. Our technicians have the experience and skills to salvage carpets whenever possible. We always try to restore and not replace water-damaged materials and possessions.
A case of simple interior flooding can cause extensive damage and expense to restore the structure if not correctly handled. Calling SERVPRO of Northwest Dallas helps ensure that proper mitigation steps are taken immediately. You can reach us 24/7 at (214) 361-7887.