Clogged Drainage Systems Can Cause Flood Damage to North Dallas
9/10/2020 (Permalink)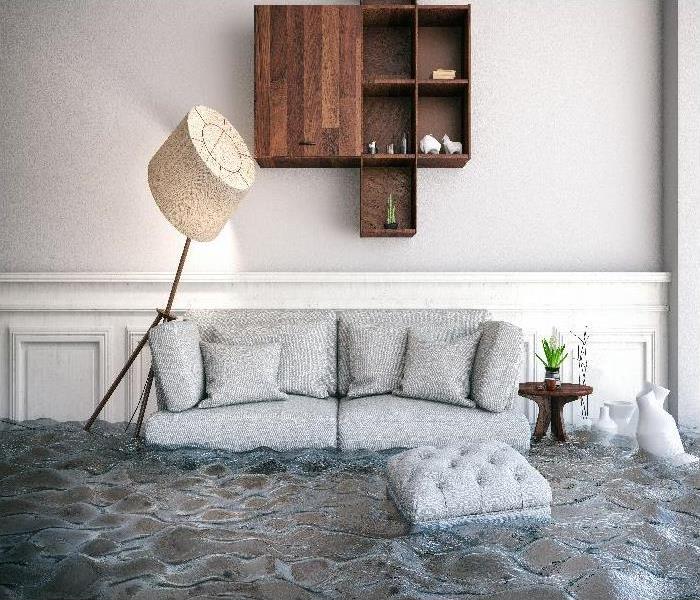 Let SERVPRO of Northwest Dallas restore your property to its pre-flood state "Like it never even happened."
Talk to one of our specialists at SERVPRO of Northwest Dallas. Our flood water removal Technicians Will Help You Handle the Storm Flood Damage in Your Property.
Floodwater can cause lasting damage when it gets into your property. It rots wood paneling, stains furniture, and causes mold infestation. However, if you engage with SERVPRO technicians in North Dallas immediately after the storm, we can work quickly to get your property back to its former glory.

How much does flood damage restoration cost?
The cost of storm flood damage in a North Dallas property varies from case to case, depending on its intensity. When looking for restoration services near you, it is essential to note that the cheapest option is not the best. Quality matters, and you need to rely on the professionals to do an excellent flood damage remediation and restoration job.

At SERVPRO, our pricing system is straightforward and guarantees every client a friendly price. We have a team of certified price-estimators who follow a standardized process of assessing the restoration cost.

What should I do after my home floods?

• Follow the authority's instructions.
• Keep off from any electrical cords and switch off the main electricity supply.
• Keep your kids from moving floodwater.
• Avoid consuming foodstuffs that came into contact with the water.

Can you remove the mud on my driveway?
Our technicians have access to top of the line equipment and tools for effective cleaning. Since floodwater can carry dirt and debris to your doorstep and into your property, we can use a diesel-powered power washer to clean the mud on your driveway and sidewalk. However, the equipment's pressure might not be sufficient to break the bound of the dirt. Therefore, we can add detergent to enhance the cleaning power of the machine.

How long does the drying process take?
The drying process in water cleanup and restoration can take several days. With the help of our advanced equipment and tools, we can dry your property thoroughly. We can place several axial air movers in the affected area to facilitate drying. The equipment removes moisture in affected surfaces and turns it into airborne water vapor. We remove the water vapor from the air using your home's HVAC system and low grain dehumidifiers. The dehumidifier converts water vapor into liquid and extracts it from the property.

If flood damage occurs in your property, act fast. The longer the contaminated water stands in your property, the more damage it can cause. Let SERVPRO of Northwest Dallas restore your property to its pre-flood state "Like it never even happened." Contact us now at (214) 361-7887.