Storms in the Dallas Area Can Leave Damage Behind
4/28/2021 (Permalink)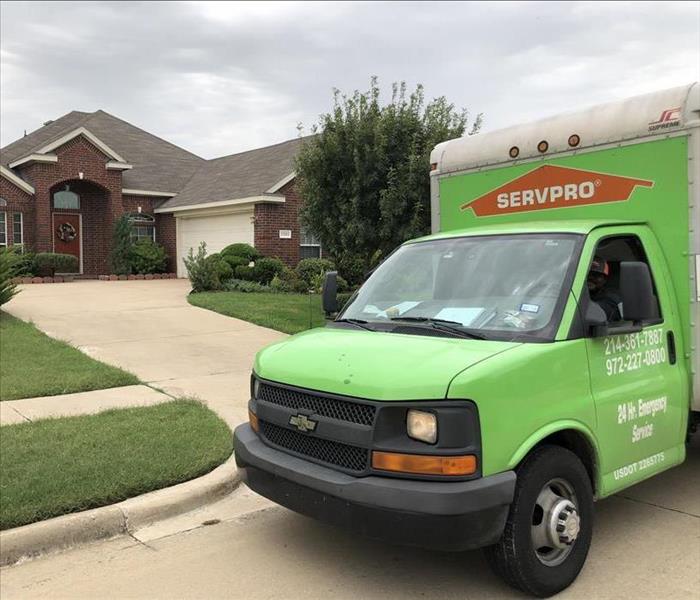 Storm damage restoration for your home should be handled by a professional outfit. SERVPRO has you covered from start to finish.
Dallas Homes Needing Flood Restoration Services can Call SERVPRO for a Quick Response.
Dallas is no stranger to copious rains and the aftermath of stormy weather. Unfortunately, flood damage is within the reality of many households in the area, leaving homeowners displaced and needing professional water damage restoration. Whether the issue stems from a leaking roof from storm damage, or basement flooding, SERVPRO is an expert resource ready to provide its expertise in water damage remediation.
Flood damage for Dallas homeowners differs from water cleanup due to a burst pipe carrying clean water. Water from the outside making its way into your home brings contaminants into the household, and extraction is not enough to protect your family. At SERVPRO, we employ the latest technology and techniques to provide emergency services when water damage is present. The following steps are crucial to a job well done-
Extraction- whether we use submersible pumps, wand extractors, or truck-mounted pumps, we seek to eliminate standing water as soon as possible. Prolonged exposure to contaminated water only weakens the structure of your home and increases the damage.
Drying- drying your home is pivotal in creating a hostile environment for mold and other bacteria's growth. We achieve our goal by using dehumidifiers, air movers, injecti-dry technology, and drying mats. Our SERVPRO staff monitors humidity levels with state-of-the-art measuring equipment.
Disinfecting- eliminating traces of pollutants is one of the final steps. Whether we use air purifiers or anti-microbial solutions, we seek to mitigate biohazards left behind by the storm.
SERVPRO of Northwest Dallas is available around the clock by calling (214) 361-7887. We pride ourselves on working quickly and efficiently to protect our clients and make their homes feel "Like it never even happened."