Is Mold an Issue After Flooding in a Dallas Home?
8/23/2020 (Permalink)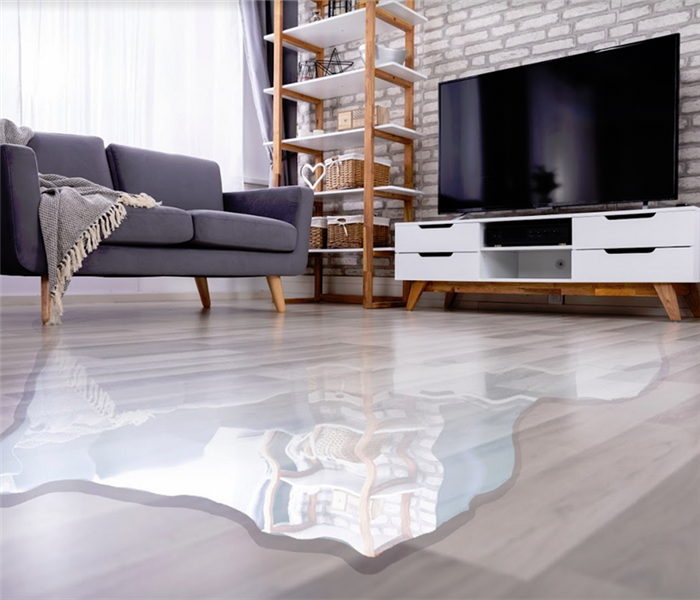 Flood damage can ruin your home even if you think you've taken care of it. Contact SERVPRO for professional removal and remediation services.
SERVPRO techs bring the latest equipment and restoration methods to restore Dallas homes from any size water damage
Floodwater in a Dallas home can enter in various ways. Seals on doors, broken windows, damaged roofing, or other structural issues can allow large amounts of water to enter a home in a short time. One of the critical elements to getting the best outcome for the situation is to bring in a professional service to extract the water and dry the structure as soon as possible and, most importantly, be aware of the development of mold colonies. Unless you live in a hermetically sealed box, microscopic airborne spores are floating in the air, just waiting for the right combination of conditions to germinate and spread. Those are:
Sustained temperatures over 70-degrees Fahrenheit
Ambient humidity levels over 50%
Something to eat such as paper, wood or building materials like sheetrock that has not gotten treated with an antimicrobial
Will Mold From Flood Damage Go Away On Its Own?
Once mold moves into your Dallas home after flood damage, it will not leave until it gets remediated. The process should be done professionally to avoid spreading spores to other areas of the property. When the conditions are favorable for growth, a small infestation can spread quickly throughout the home and wind up behind walls, under floors, and within the ductwork.
When mold is found on sheetrock or within the subfloor, these areas require removal to halt the infestation. Any existing colonies on structural elements that are not candidates for removal such as framework or studs get the colonies dried in place and then abate through manual removal techniques or the use of blasting using soda or ice.

What is the Difference Between Using Fans and Air Movers to Dry Water Damage?
When SERVPRO technicians restore a Dallas home with flood water problems, they spend extra time extracting the water. This initial step works to lessen the drying time needed. One of the most significant differences between household fans and the devices used by the techs is the velocity of the air. Even on the high setting, a consumer fan can do little more than dry surfaces. An air mover delivers warm, dry air with so much force it causes embedded moisture to rise, where the dehumidification equipment is waiting to capture it and remove it. Instead of drying only surfaces, the cycle created by the air movers and dehumidifiers results in progressively drier air that works to bring down the interior humidity levels rapidly.

In cases of a wet carpet from rainwater, the choice to use a company professional extraction and drying equipment can make the difference between getting your carpet restored and having to spend the money to replace it. This is because the longer water waits for cleanup, it degrades and becomes progressively more filled with bacteria. Gravity pulls the water downward into the backing and padding and can seep into the subfloor below; all of these conditions remain when sub-par drying equipment only dries the fibers above. SERVPRO techs use weighted extractor heads to push as much as possible out of the carpet, and then they use specialized drying techniques such as "floating" to force air both over and under the carpet. Another method known as "tenting" works by putting plastic over the wet area and connecting air movers and dehumidifiers to force air in and moisture out.

Floodwater Can Be Harmful And Need Extra Care to Cleanup
One of the issues with this type of water is that potential to contain harmful elements such as:
Chemicals
Sharp objects
Pathogens
Sewage
SERVPRO technicians test the water upon arrival, so they know exactly what kind of hazards are present. The application of antibacterial or antimicrobial solutions is standard to make the water safer to handle during disposal. This water has the potential to make humans sick through contact or aspiration of airborne droplets, so the techs wear full-body protective gear, including respirators, to ensure they work safely from start to finish.

Whenever mold has been part of the issue during the cleanup of floodwater in a home, the techs use their moisture detection equipment to monitor the drying process to ensure the interior humidity levels are well below sustainability for spores and colonies. Anywhere that mold got removed gets cleaned and treated with powerful antimicrobial cleaning agents. In cases where repairs need to be made to finalize the restoration, the techs can apply sealants to ensure there is no return of the issue before the renovations happen.
SERVPRO of Northwest Dallas at (214) 361-7887 brings their experience and professional equipment to clean up and restore your home from any size flood damage.