Why Rely On SERVPRO For Fire Damage Restoration In Your Dallas Property
10/8/2021 (Permalink)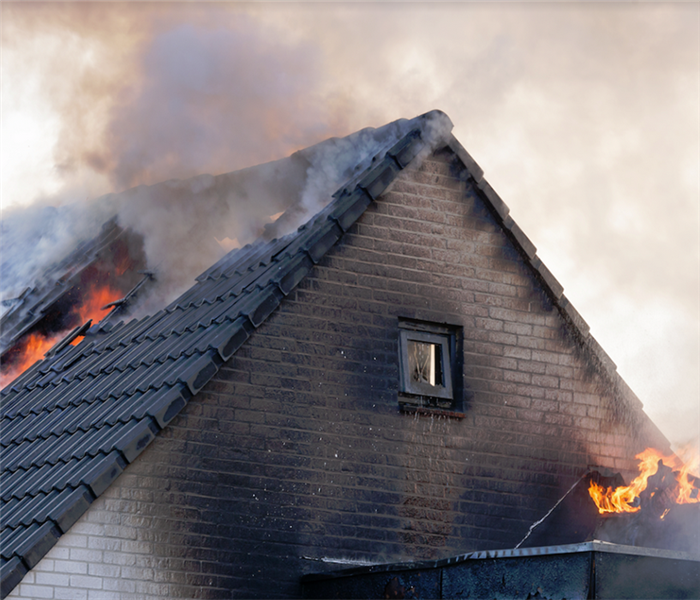 Our SERVPRO technicians are here 24/7 to take your emergency call after a fire. Contact us right after the firefighters leave for best results.
SERVPRO Can Restore Your Dallas Home After Fire Damage
Fire can leave your home engulfed with soot, water from firefighting efforts, and an intense smoke odor. The devastation fire causes can be severe to the extent of making you feel devastated. If you are in such a situation, do not worry because SERVPRO can restore your property to its pre-misfortune state.
Every home contains structures and contents made of different materials that can increase the magnitude of the fire damage and present significant restoration challenges. Our highly trained team of technicians can use advanced equipment to handle the fire damage in your Dallas home. We can work hard to not only restore your property but also complete the cleanup process quickly. During a fire, various pollutants are produced. We categorize these pollutants as:
Chlorine dioxide which forms when synthetic materials burn.
Nitrogen oxides that form when organic components burn.
To prevent the problems that these combustion pollutants cause, our crew focuses on the remediation and restoration of structural materials that smoke residues have ruined. We have products that can remove soot from various surfaces effectively. For instance, we can use concentrated wood oil soap to remove soot from wood floors, kitchen cabinets, paneling, and other wooden surfaces.
We Know What Can and Can Not Be Done
Our SERVPRO team can also set up the right ventilation equipment to expedite the process of cleaning up smoke damage. Besides, we can use positive ventilation to achieve the desired outcome if weather conditions are conducive. If the weather conditions are not right, we avoid using positive ventilation because it can be counterproductive. For example, if the weather is humid, the extra humidity getting into your home may combine with smoke and cause acidic residues to form faster.
If the fire damage has affected a particular room or area of your property, our team can set up proper isolation and containment barriers to minimize the spread of contaminants to unaffected areas of the property. We can also perform air management to control the flow of air inside the affected area and keep smoke residues from leaving the containment zone.
If there is water in the carpeting of your property, we can use extractors to remove it. We also have deep extraction tools that can be attached to extractors. Some are self-propelled, while others are stationary. An independent motor powers the self-propelled extraction tools, and it moves the units over carpeting at a consistent rate. The equipment compresses the carpet and pad to squeeze out the water and remove it through an extractor's vacuum system. The weight helps the tool work more effectively, and it is designed to allow a restorer to ride on it to provide extra weight.
When a fire incident happens in your residence, do not let it distort your usual way of life. Call SERVPRO of Northwest Dallas at (214) 361-7887 for efficient restoration that can make the incident seem "Like it never even happened."