Professional Mitigation Services for Flood Damage in Dallas Residences
7/8/2018 (Permalink)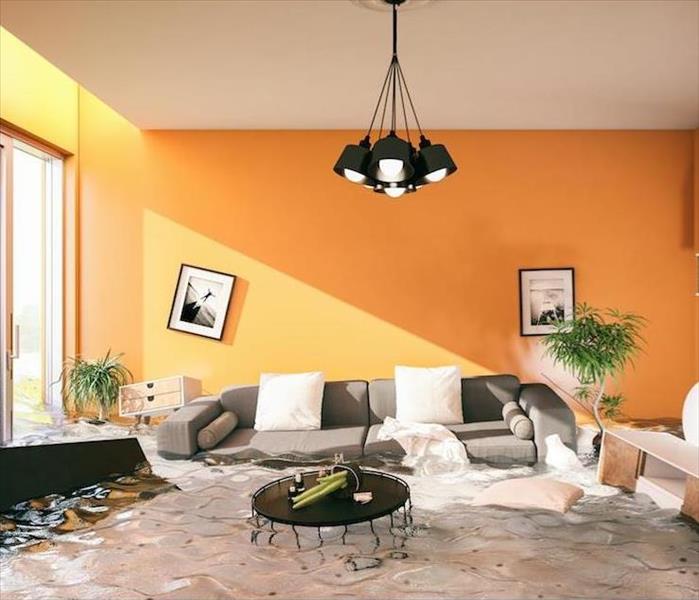 Flooding can happen very quickly and leave you literally under several feet of water. Get to safety and then contact SERVPRO to dry out your home.
Team SERVPRO Quickly Starts the Drying Process After Flooding in Your Home
Once a flood hits your Dallas home, the water spreads through without discrimination, soaking everything thoroughly. Getting things dry again and pathogen-free might seem impossible, but SERVPRO is here to help.

Our IICRC-certified technicians work hard to protect homes from flood damage in Dallas. We remove any remaining water that did not drain away on its own. Our teams set up drying equipment in strategic locations and specific directions to quickly air out and dry the interior materials and spaces of a home after a flood.

To speed up the drying process, we remove any carpeting and padding that became saturated by floodwaters. Removing an enormous amount of water this way, we also gain access to the floor's structure, giving us direct access to the floor itself. We can more efficiently dry components in your home after we remove any barriers. Also, unlike a broken water pipe's contents, floodwaters contain a multitude of contaminants. These destroy any exposed carpeting and make it too costly to restore to a safe condition again. Along with the water, we also strip your home of those pathogens and other problem-causing elements left behind in the dense fibers and backing of your carpet.

Just as floodwaters saturate your carpeting, that same water gets under your floorboards, and also in between your walls, inside them. This water has no place to drain away because the force that pushed it into these spaces no longer exists to push it out again. SERVPRO crews have methods that address both of these situations, and many others.

Along the bottom of walls, where they meet the floor, we remove any existing baseboards and then drill tiny holes. These holes, called weep holes, allow the water to drain away. As it does, we remove it from the floor. Other areas of your floors need particular attention, too, so warping never occurs. Warping can ruin a floor and significantly increase restoration costs.

We apply heated mats that raise the temperature of the floor, so water underneath evaporates. The same mat extracts this water vapor and sends it into a chamber for easy disposal. After the water inside walls drains out completely, the interior can remain damp. We force heated air into the interior with our Injectidry's flexible tubing. To make sure everything in your home reaches normal moisture levels, we test the levels in different materials, including the air.

SERVPRO of Northwest Dallas serves Preston Hollow and the surrounding area, helping homeowners restore their homes "Like it never even happened" after flood damage and other disasters strike. Call our emergency services number, (214) 361-7887 when your home sustains damage – we are always ready to take your call and explain how we can help you.

Click here for more information on the city of Dallas.