Fire And Smoke Damage Restoration in Dallas
8/26/2021 (Permalink)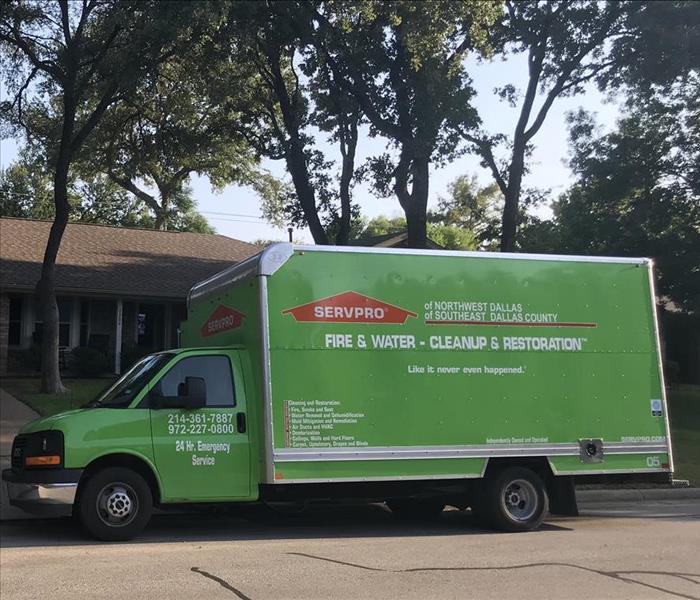 The SERVPRO team arrives as the fire trucks leave to cleanup and restore fire damaged homes in Dallas
Why SERVPRO After Fire and Smoke Damage
A fire disaster in Dallas can cause serious damage to your house. The resultant flames, smoke, heat, and even water can permanently impact the structure and many of your items. The contents that survive fire damage may sustain extensive smoke damage in exchange. The firefighters may also cut holes in the walls or roof when putting out the flames, leaving you with a massive cleanup job.
Time and patience are crucial when dealing with any form of fire damage in Dallas. Once the firefighting crew leaves, SERVPRO can come in and initiate the restoration process. We have highly skilled, IICRC-trained technicians that are on standby in case of an emergency. Using special smoke cleanup and restoration techniques, we can restore your property to preloss conditions, "Like it never even happened."
When the fire calms down, the resultant smoke damage appears in discolored walls, charred items, or soot and ash on the floor. In some cases, other side effects such as smells can remain behind, presenting health effects to the occupants. It is important to keep in mind that some signs of smoke damage can show almost immediately, while others take several hours (sometimes days) after the event to manifest.
Fire and Smoke Damage
Within a few days of smoke and fire damage, walls and flooring may turn yellow (although this yellowing effect does not show right away). Warping and discoloration can also occur on wood and plastic surfaces/appliances. Metal hardware tends to rust and corrode away several hours after a fire. If you have tiles, countertops, or any other surface with porous stone such as travertine, granite, or marble, the acidic residue in soot can cause them to discolor permanently.
Certain surfaces, especially fabric items, may show both visible signs of fire damage and smoke odor. Smoke releases tiny carbon particles into the air that, when deposited, are known as soot. The first step SERVPRO takes to reduce the smell of a fire is getting rid of this smoke deposit or soot.
In addition to these tiny particles, smoke contains various components that contribute to the unbearable smell that lingers after fire damage. These include toxic gases and vapors. Vapors are misty droplets that can be poisonous upon absorption or inhalation. Toxic gases come in different forms. Carbon monoxide is the most common toxic gas in a fire disaster. Household products such as plastics, vinyl, and other materials containing chlorine produce phosgene during combustion. Carpets, synthetics, clothing, and carpets release hydrogen cyanide when burning.
The smell that follows smoke damage penetrates different materials after some time. Unless a professional fire damage restoration company cleans up and deodorizes these items properly, the smoky smell may remain for a long time. SERVPRO technicians can pinpoint the source of the odor and neutralize it accordingly.
Do not leave your property to fate when a fire disaster comes knocking. SERVPRO of Northwest Dallas is a part of your community and can arrive promptly to reverse the fire damage. Call us anytime at (214) 361-7887!