How Do Odors Get Removed in Dorms After Mold?
10/7/2020 (Permalink)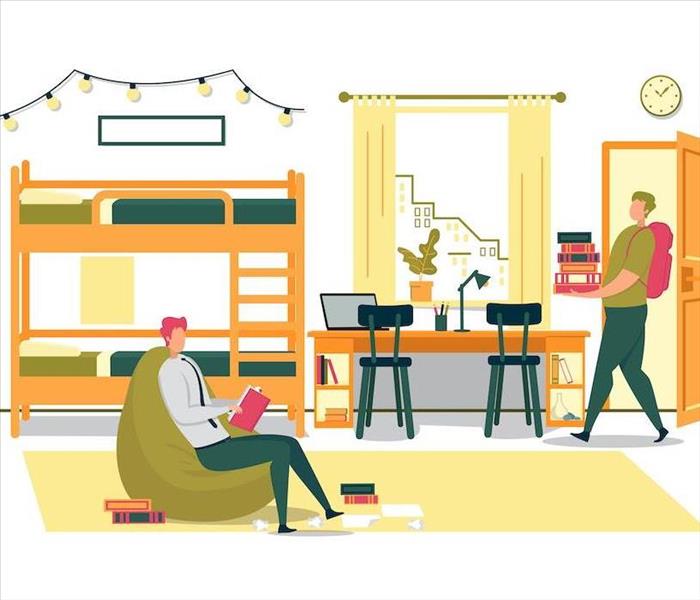 If mold is left unchecked, it can spread very quickly. Contact our IICRC certified mold damage remediation team for an assessment today.
Dallas is home to many universities and colleges, so when mold becomes a threat, our SERVPRO professionals must work quickly to manage all the effects.
With many large institutions in Dallas, including Southern Methodist University and the University of Texas at Dallas, thousands of students return to dorms every fall here in the city. With so many students sharing the same building, mismanagement of utilities and unaddressed water damage might be more common than school management would expect. Mold development in these dorms can affect hundreds of students simultaneously, which requires a combination of remediation and reconstruction in most situations to resolve.
There are multiple obstacles for mold remediation in Dallas campus housing for various schools, which goes beyond the logistics of temporary relocations for affected students. Despite the potential concerns with removing and discarding elements like drywall and carpeting impacted by the present mold colonization, much of the immediate threats to occupants can get resolved with thorough containment protocols. Lingering effects after mold colony removal, such as harsh odors, require separate actions to resolve.
What Deodorization Practices Are Most Efficient?
While removing mold-damaged surfaces and cleaning compromised contents and structural elements can reduce the concentration and severity of odors, we have specific practices designed to neutralize and eliminate musty odors common to mold development. The choice in what deodorization process gets selected is a combination of data collected during the job scoping phase and the location and severity of these odor concerns throughout the dormitory. Some of the common choices in deodorization include:
Thermal Fogging
Hydroxyl Generators
Ozone Generators
Air Scrubbers
Mold is often among the most threatening conditions to impact college dorms, spreading quickly and causing health effects. Give our SERVPRO of Northwest Dallas team a call to begin addressing these concerns as you find them as soon as possible. We are available 24/7 at (214) 361-7887.