Our Trained Professionals Are Ready To Restore Your Dallas Home After Water Damage
6/20/2019 (Permalink)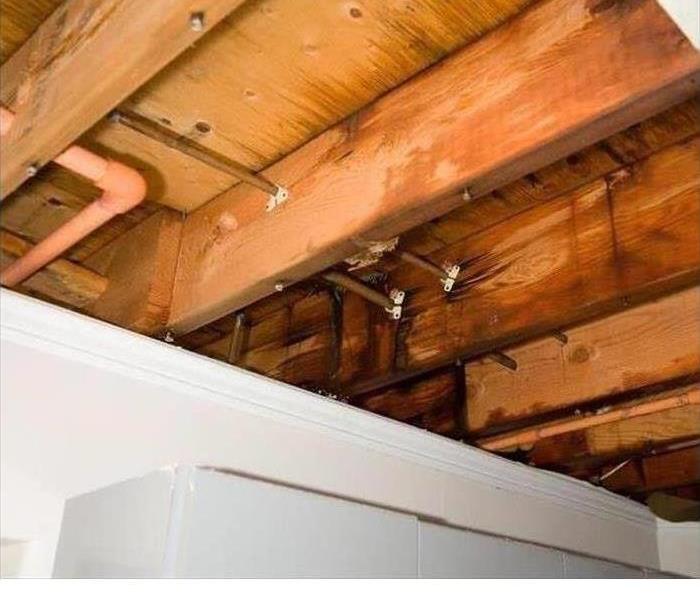 Water damaged this home when the flat roof of the structure started to leak. We arrived right away to begin restoration to prevent further damage.
How Water Damage Can Ruin Your Hardwood Floors And Furniture
Forgetting to shut off the water in your sink after brushing teeth can have severe repercussions for your floors. The next morning, you may wake up in your Dallas bedroom and find yourself putting your feet down into a puddle of sink water. Overflow from a bathroom faucet can efficiently run into adjacent rooms, causing damage to hardwood floors and furniture.

If you have experienced water damage in Dallas to the floors and furniture because of a moment of forgetfulness, then contact SERVPRO. Our water damage restoration technicians (WRT) can arrive at your home in a matter of hours to begin the inspection process. Once we have assessed the extent of the damage in your house, we can get to work removing spillage. The longer that wood remains submerged, the higher the chance of permanent damage. Wood can swell, warp, and eventually crack after long term water exposure, so it is important that you contact professionals who can work quickly and efficiently. Our tech crews utilize industrial grade wet vacs and pump to extract standing water from your floors rapidly.

Hardwood floors often have water resistance lacquers on their surface; however, water can eventually seep through these barriers and reach the fragile wood below. Once wet, wood can cup and warp, so we can use air movers in conjunction with dehumidifiers to quickly dry large sections of your floor. Your floors can then be sanded and refinished if necessary.

Furniture faces similar problems as wood flooring. However, furniture is more likely to dry unevenly, leaving behind ugly water lines. Our Institute of Inspection, Cleaning and Restoration Certification (IICRC) certified techs can wipe down wooden sections of your nightstands and chairs to help prevent the formation of water lines.

Contact SERVPRO of Northwest Dallas if the beautiful wood floors and furniture in your home are threatened by water damage. We are available 24/7 at (214) 361-7887, so call us as soon as possible!
See more about Dallas.