Water Damage in Your Dallas Kitchen Cabinets
6/19/2017 (Permalink)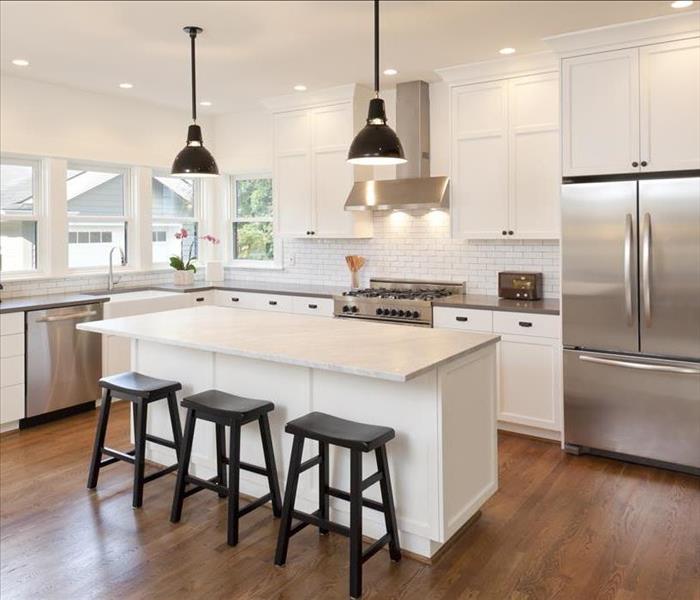 If the source of the damage is found and repaired promptly, your kitchen cabinets can be dried and saved.
Don't Let Your Kitchen Cabinets Drown in Water Damage
One of the most problematic parts of your home, when they have been water damaged, are your kitchen cabinets. When damp, cabinets are the perfect place for mold growth. Many times, since cabinetry is expensive, particle board is used as an alternative building material. It is one of the lowest quality building materials on the market for cabinets and can create a nightmarish situation if particle board on the interior experiences exposure to water.

There are a variety of situations that can cause water damage to the cabinets in your Dallas home. Burst pipes inside the wall behind the cabinet and leaky pipes from a sink drain are just a couple of problems that can arise. If detected early, pipe leaks cause the least amount of damage. Burst pipes or flooding can saturate a cabinet totally, sometimes making it irreparable.

Regardless of the reason for the water damage in your kitchen cabinets, the problem needs to be fixed right away, which is where the professionals at SERVPRO come in. We not only find and correct the problem which caused the water damage but also dry the affected cabinets out. Alternatively, if they are so saturated that they cannot be saved, we work with other professionals to get them replaced.

In most cases, the responsible issue for the water damage is not a simple fix. Water travels fast, and it is not likely that the only part of the problem is the one you can easily see. With corroded pipes, for instance, there is a high probability that the pipe is corroded in other places which are not exposed. We search for the problem from the stem up and ensure that adequate repairs are made so that you do not continue to have the same issues in the coming months.

If the source of the damage is found and repaired promptly, your kitchen cabinets can be dried and saved. It is typical for us to remove the cabinets affected so we can implement proper drying of your structure, and put them back when everything is completely dry. We also check your flooring and subflooring, and certain sections of drywall which may have absorbed water and need to be removed or replaced.
Locally Owned Company with National Resources
You can rest assured that when you call us at SERVPRO of Northwest Dallas to repair the water damage to your kitchen cabinets that the job is done thoroughly and your kitchen left in its state before the loss happened. You can reach us easily by dialing (214) 361-7887 any time you need.
For more information regarding the city of Dallas, click here: https://en.wikipedia.org/wiki/Dallas