Ceiling Leaks Can Be Fatal for a Dallas Business.
5/3/2021 (Permalink)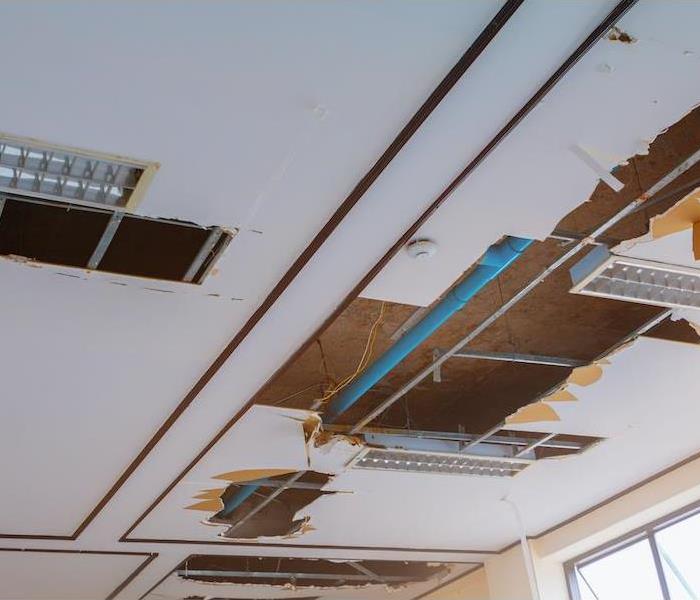 Commercial buildings with water damage need the help of SERVPRO. Our techs are ready 24/7 365 days a year.
Water Damage Restoration by SERVPRO Certified Technicians Helps Dallas Business Owners Mitigate their Loss
Whenever a roof leaks into a building in Dallas, it causes trouble. The extent of the damage begins on the issue itself and the speed with which repairs happen. Although leaks in a home are problematic, they can have a quantifiable repercussion on the business's bottom line in a commercial setting. Calling SERVPRO as soon as you detect the problem can help preserve inventory and minimize the disruption to your business operations.
Water damage in Dallas may require water removal services and repairs to drywall and other structural considerations. Thankfully, our SERVPRO staff is certified to provide emergency services when there is water damage and is careful to document each step of the way for your protection. As we assess the damage, we consider the issues below and develop a plan with them in mind-
Replacement cost vs. restoration cost whenever restoration is possible
Disposal of waste according to environmental regulations
Decontamination needs based on the nature of the water
Evaluation of hazards and threats to occupants
At SERVPRO of Northwest Dallas, we are trained to provide the most professional approach to your water damage restoration needs. Call us at (214) 361-7887 as soon as the emergency happens, and let us help return your life to business as usual.