Flood Damage in Your Dallas Warehouse from Storms
3/9/2018 (Permalink)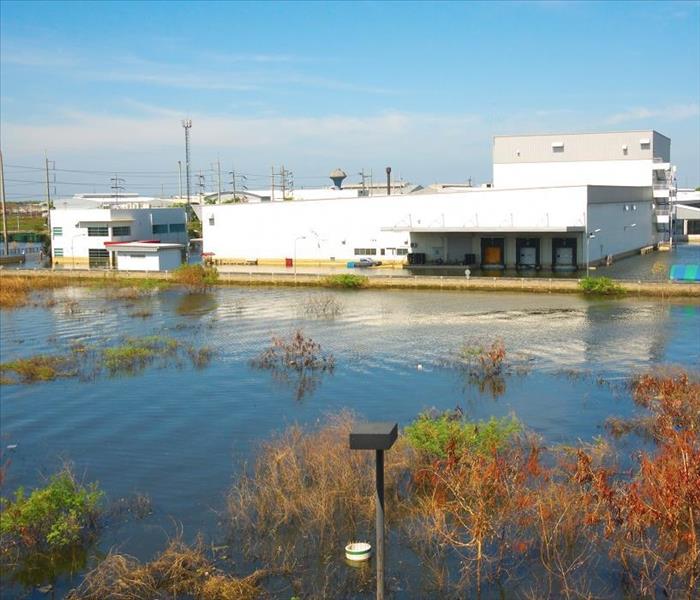 SERVPRO knows you cannot afford downtime so we waste no time removing floodwater and restoring your space so it can operate smoothly again.
SERVPRO Works Quickly to Restore Your Commercial Space to Save You From Downtime
There are several different reasons for flooding in your Dallas warehouse. Storm surges, torrential rains, flash floods, or overflowing rivers can create an issue fast for your business. Flooding in your building can lead to an infiltration of rodents and insects, mold, and rotting wood. It is not a situation to take lightly, but instead, you need to act quickly to avoid additional damages.
Commercial flood damage can disrupt your daily operations, leaving you with downtime you cannot afford. Your Dallas business relies on being able to run smoothly at all times, so you should get in touch with us at SERVPRO as soon as possible. We waste no time in helping you remove the flood waters and dry your building out again.
An initial assessment is done first when we arrive to determine the scope of the damage and how we need to proceed. We also make sure there are no safety hazards. We then can begin water extraction with industrial, truck-mounted pumps. The quicker the bulk of the water is removed, the better, so we can try to avoid additional damage like mold growth.
Once the water is extracted, SERVPRO staff remove any wet surfaces on ceilings, walls, or floors to help speed up the drying process. Sometimes, baseboards are removed, plus any drywall or insulation that is not salvageable is removed as well. Any cabinet drawers and doors are opened, and toe kicks are taken off as well. Each wet surface must be treated.
Once extraction is complete, and all wet materials are taken out, we can begin the drying process. Commercial grade equipment, such as dehumidifiers and air movers, are used to increase the circulation of air and evaporation. We monitor the environment daily to ensure that the process goes as quickly and efficiently as possible. The machines are moved around as needed to help thoroughly dry your building out.
Once drying is complete, we inspect your structure to ensure there are no hidden pockets of moisture that could result in further damage. Then if needed, structural reconstruction is done. If the damage that was done was substantial, we might work alongside professional contractors to ensure your business is restored to preloss condition.
SERVPRO of Northwest Dallas understands that a flood situation can halt the operations of your business in Preston Hollow, Dallas, or Northwest Dallas, and that means profits for you. So, when you call us at (214) 361-7887 for help, we do not waste time in getting to your building and drying it back out.
Click here for more information regarding the city of Dallas.