Hey, Dallas Homeowner! Water Loss Mitigation Gets Done by SERVPRO--Real Fast
4/4/2019 (Permalink)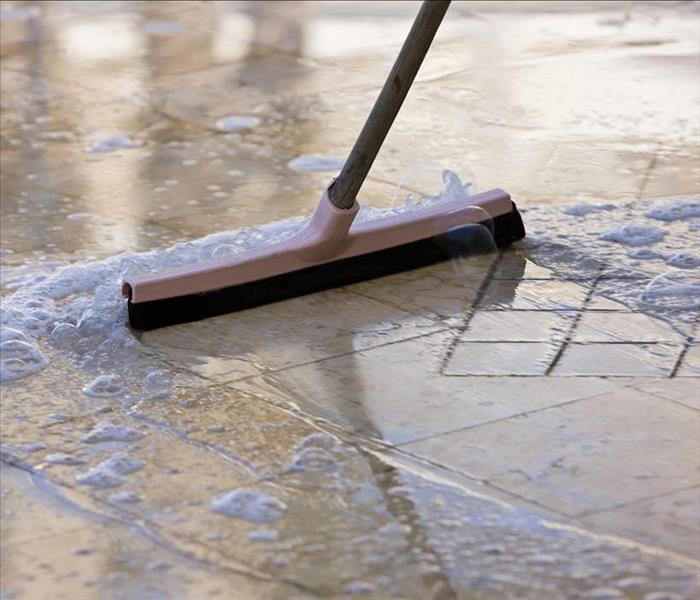 When a Squeegee Isn't Enough for Water Removal from Your Dallas Home or Office--Call SERVPRO Real Fast
The Process of Turning Around Water Damage in Dallas Properties
Many people think that cleaning up after water damage means mopping or throwing down towels on the floor and setting up a fan or two to dry any water the towels or mop did not pick up. One of the main factors affecting the restoration of a structure and contents is the amount of time it was saturated before cleanup efforts began and another important factor is if any residual moisture remains.
Dallas Water Damage Comes in Many Forms
When there is a hot water tank failure, pipe burst or even a leak in a roof allowing rain into the home, the water you can see may be all you assume needs to be cleaned up. The problem can go much deeper. In the case of moisture behind drywall, vapor barriers can hold moisture and become a perfect host for mold growth. When flooring is drenched, the subflooring underneath can retain moisture and cause a host of issues. In almost every circumstance, having your property cleaned professionally by our team at SERVPRO of Northwest Dallas can help you avoid potential repairs or replacement cost from secondary damages.
Our Dallas water damage technicians use several state-of-the-art moisture detection devices including moisture sensors that can show if there is any residual moisture in baseboards, walls or carpeting. Moisture meters are a valuable tool used to determine how much moisture in various materials and how we define when an affected area is truly dry. We can use devices with sharp probes or flat surfaces, depending on the material being checked. Thermal imaging can be used in cases where probes cannot adequately measure the moisture within structures. Color imaging on a small visual screen indicates temperature variations, a possible indication of dampness or water. Thermohygrometers measure humidity, vapor pressure and dew point. This measurement is essential for determining the baseline indoor humidity in unaffected areas of the property so drying goals can be established.
Quick Water Extraction is a Key Element
Sometimes when our water damage restoration team arrives at a local site, often the property owner has done some water clean up before our arrival. What they often find shocking is the amount of water still left in carpeting, furnishings, walls, and flooring. For fast extraction, we utilize the power behind both portable and truck mounted extractors. Weighted extractors are ideal for pushing water out of carpeting and upholstery. For large amounts of water, we can pull it out of a home or business quickly using our truck-mounted pumps. Bottom line: the more thoroughly water is extracted, the faster the home or business dries.
How SERVPRO Dries Properties So Quickly
Our technicians have an array of tools that are often used in tandem to reduce moisture quickly in a property. Our SERVPRO of Northwest Dallas technicians are certified in the science of Psychometry, the study of air and control of moisture content and its effects. This training enables the technicians to choose the right configuration of high-grade air movers, high-velocity axial fans, industrial heaters and dehumidifiers on a case by case basis for the best results. The air movers are vital to the drying process as they are positioned to draw moisture air to the surface and the dehumidifiers eliminate the moisture as it rises. Our goal is to work quickly and cause as little disruption to your home or business as possible during our restoration efforts. Whenever possible, we dry furnishings in place, setting the legs on foil and raised on blocks of wood or dense foam.
Carpeting is not automatically a loss if it has absorbed water. With our extraction methods, we can pull much of the water from within the padding. Using a method such as "floating" where strong currents of air are directed under the carpeting, it can often be dried in place and saved. In the cases where carpeting cannot be dried in place but appears to be restorable, our technicians can suggest removal to a drying facility or to another location at the property. Padding is often discarded, not worth the effort nor the expense to salvage.
In-Plant Restoration Services
There are times contents cannot be dried on-site. In those cases, with the permission of the property owner, our technicians pack and more items for in-plant servicing. In the case of upholstered furnishings or carpeting, both can often be saved through our restoration methods. Our goal is always to restore rather than replace whenever possible, and our specialized restoration techniques for books and papers use the same recovery methods as the Library of Congress for historical documents. Lyophilization has saved many an important document or manuscript.
Leaving No Reminders of Water Damage Behind
Although drying the structure and contents eliminates a good deal of the unpleasant odor, there are additional steps taken to ensure there are no traces left either visually or offend the olfactory sense. Thoroughly hand-cleaning using our proprietary cleaning solutions eliminate bacteria and fungus along with leaving a pleasant, clean scent. In many cases, this is enough to take care of any residual odors left behind.
When the Water Odor is Bigger Than Hand Cleaning Can Handle
While our cleaning methods may banish any lingering odors. Sometimes, the odor left behind requires robust methods to eliminate it. When the scent additive in cleaning products is not enough, another masking agent that works often comes in the form of time-release gel beads. For strong odors, our Odor Control Technicians utilize ultra-low volume fogging. This method uses a solvent that is released as fog, and it changes the makeup of the odor at the molecular level neutralizing it. We can also utilize mechanical means of odor control by stationing HEPA filtered air scrubbers and hydroxyl generators.
Avoiding Mold after Water Damage
Mold is a real concern and our approach to water removal and cleanup addresses making the structure and contents non-supportive for mold growth at every step. Along with lowering moisture, our powerful antifungal cleaning agents leave surfaces unfriendly for mold growth. A common home remedy that gets repeated often is to spray bleach on areas after cleaning. That never addresses mold spores and colonies that have extensive hyphae, root-like structures embedded in porous materials like drywall. SERVPRO of Northwest Dallas provides the correct remedies to inhibit mold proliferation.
Do not take on the task of water removal from your home on your own. Whether it is a little or a lot of water causing you stress, contact SERVPRO of Northwest Dallas, and let our technicians professionally clean and restore your property to its preloss condition. We are proud to serve the City of Dallas, Texas and areas in 75240, 75230, and 75220.