Clogged Drains at the Curb Can Cause Flood Damage to Dallas Homes
1/5/2018 (Permalink)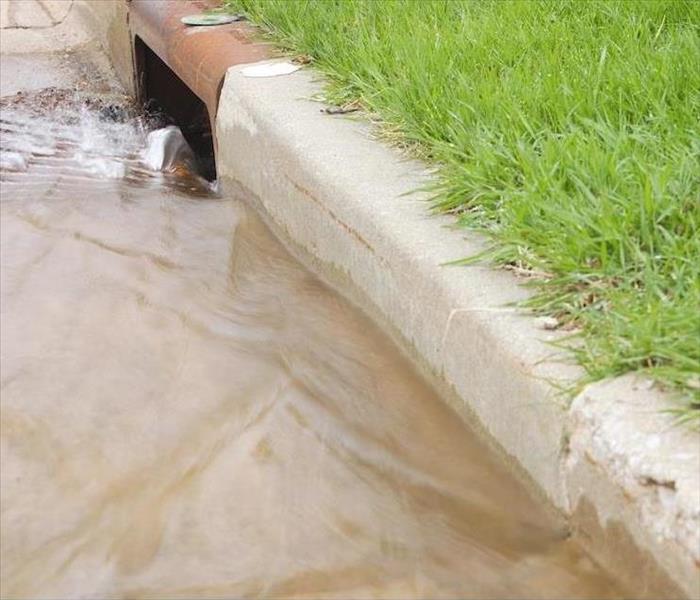 When drains cannot handle the run off, water can flood your property. Contact SERVPRO right away to dry out your home and help prevent mold.
Team SERVPRO Remediates Flooding After Storms or Snow Melts
Rainfall and melted snow provide our lawns with the water they need to grow well, but not all of the water that falls on your property ends up soaking into the ground of your Dallas property. Much of it runs off into the street where it travels down to the drainage system.

When a neighborhood contains many trees or other debris sources, homes in the Dallas area can become flood damaged. When these drains become clogged, they force the water to either continue down the street or to overflow into yards and parking lots. This can happen in any neighborhood.

We at SERVPRO make sure that each one of our customers receives the level of service their own unique needs require. We understand that floods do more than just damage the interior of the home. Flooding also affects the exterior of the home, as well as the yard. No matter where flooding damages your property, or how severe that damage becomes, we handle all aspects of restoration and quickly make it "Like it never even happened."

Our certifications come from the IICRC and enable us to handle any level of contamination that flooding may leave inside a home. Even when water from a flood seems clean, we cannot take chances with potential health risks. We help homeowners box up undamaged items in their homes for removal to a safe location. We also help dispose of contaminated foodstuffs to help ensure your family does not become exposed to possible pathogens that they might otherwise ingest.

Other actions we take to restore your home include removing saturated carpets and padding and tearing out sections of damaged walls. After removal of these water-laden items, we begin to dry out your residence.

Using large air movers that create a steady but concentrated air stream, we point these at areas that need to dry out. Dehumidifiers also play a significant role in our work. They remove excess humidity while air scrubbers minimize the number of airborne pathogens and mold spores. The removal of these dramatically decreases the chances of illness or secondary water damage from happening in the future.

SERVPRO of Northwest Dallas is always ready to help local families recover from flood damage and other catastrophes that affect their dwellings. Call us at (214) 361-7887 so we can help your family move forward after a flooding event.

For more information regarding the town of Dallas, click here.