Are There Changes to the Professional Response When a Dallas Water Damage Emergency Reveals Long Term Damage As Well?
8/5/2020 (Permalink)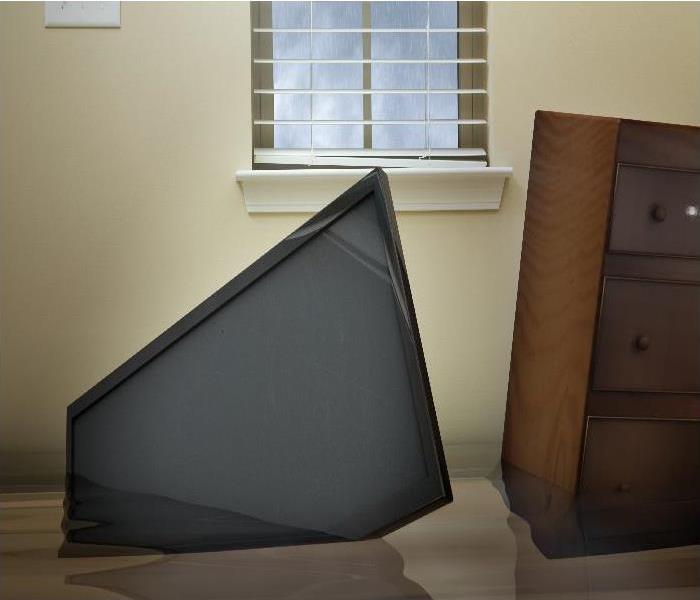 Get an honest review of the water damage performance inside your home from SERVPRO of Northwest Dallas.
SERVPRO Prepares Technicians and Managers to Mitigate and Remediate an Active Dallas Water Damage Crisis and Assess and Address the Effects of Long-Standing Hidden Water and Moisture Incursions Discovered.
Every day in your Dallas home, behind walls, under cabinets, or over ceilings, a secret water drama can be unfolding. Drips and seepage from a cracked pipe or dried-out joint seal quietly and stealthily soak into the building materials and fixtures inside your dwelling. This activity can happen for an extended period of time, and you have no clue that it is occurring as it happens. Structures swell and weaken, still unseen, but threatening collapse. Maybe you notice a musty smell or wonder why the paint is crackling, or the wallpaper is peeling near the ceiling. Floors might start squeaking. You are always wiping up a puddle when you stand at the sink -- are you really that negligent while doing dishes? Or is there something else happening?
How Will Hidden Water Damage Finally Grab My Attention?
If you continue to ignore the subtle signs of water damage in Dallas, it is inevitable that the crisis will someday arrive. The seeping pipe or poorly connected hose eventually blows out completely. Water pours out of the kitchen cabinet or part of the ceiling below the master shower cracks wide open as a waterfall flows. Shutting down the water and calling a plumber stops the current incursion. A new pipe or replacement hose ends the emergency and the persistent slow leak. Still, you have severe damage to building materials and contents and not all date from the most recent bursting of a supply line or a disconnected hose.
Can Neglected Water Damage Be Remediated Long After It Happened?
When you invite SERVPRO to assess the latest water crisis, you might be caught off guard when we tell you many of the building materials we observed show evidence of previously neglected water problems. Even though you are following the right track now, the prior damage to structural components can pose problems for your home's integrity into the future if remediation steps are skipped. What are some things we might see that signal long-standing damage and ways we can help?
Moisture detection and metering
We try to assign one technician the job of using moisture probes and sensors during the water damage project for consistency. Careful outlining of the perimeters of the damp materials and a baseline measurement of moisture levels help us set and achieve drying goals. Comprehensive structural drying allows a determination of whether the remediated materials have the strength and resilience to perform their function:

• Subfloor Straits: Are subfloors stable and smooth, or did long-term wetness cause swelling and distortion significant enough to recommend replacement? Even tile floors, which you might believe are impervious to water, can permit long-term damage to the subfloor if grout cracks or caulk along fixtures or the wall is missing, allowing water to percolate down to saturate the plywood. A "wavy" subfloor that does not respond to sanding or refinishing continues to break up grout lines and pop up tiles. Persistently we subfloors in other rooms of the house contribute to uneven wear and tripping hazards on a hardwood or laminate surface.
• Insulation Inadequacy: Is insulation capable of providing the R factor expected to keep your home's temperature moderated if it was wet and packed down? Even if it dried completely, it likely is no longer efficient, and your energy use and bills will rise. Replacing insulation is a reasonably inexpensive solution that saves money and keeps your home comfortable in the long run.
• Mold Damage Dilemmas: Did we spot evidence of mold damage of dry rot? Mold is not just unpleasant to view and smell; it also consumes organic materials such as wood framing, insulation, and drywall. Supportive structures can become substantially weakened if mold lived and dined on them. Appropriate mold remediation must complete, or you also risk a fungal growth rebound any time moisture is available -- even when the humidity is high. If the damage is substantial, some replacement of structural components might be indicated.

Get an honest review of the water damage performance inside your home from SERVPRO of Northwest Dallas. We respond to the emergency and evaluate the prelude to the disaster, including remediation of long-standing damage in the overall project plan. Waste no time to call (214) 361-7887 and see how a highly-qualified water crisis team performs.