SERVPRO Technicians Help Repair Mold Damage in a Dallas Home
5/22/2022 (Permalink)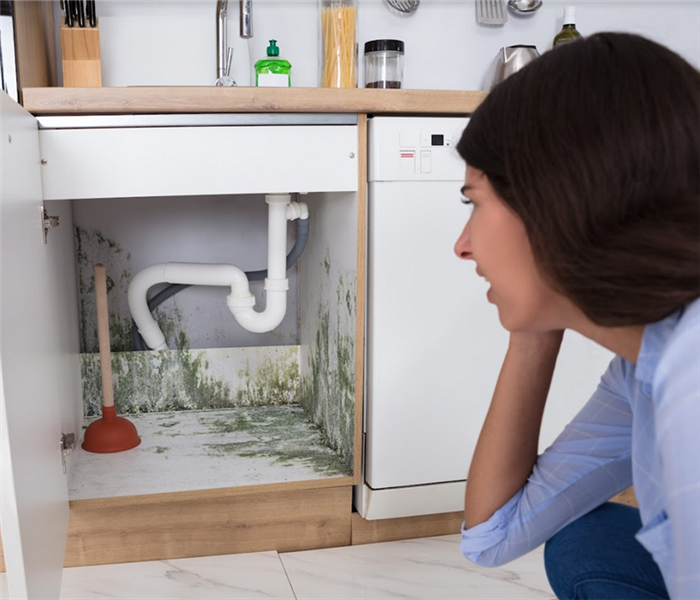 If you find mold in your home, call us immediately! Our certified SERVPRO technicians can offer professional remediation/mitigation services.
Mold Damage Repair in Dallas Homes
A common cause of mold growth is water leaking from a pipe. The most serious leaks originate from above a ceiling or inside a wall. Such leaks fester mold, which may widely spread by the time you realize it. By attempting to manage the situation yourself, you might aggravate it hence the need for someone with the right skills. SERVPRO technicians have all the protective gear, detection tools, and technical skills necessary to eradicate the mold in your Dallas home.
Splotches from mold damage on Dallas homes can sprout anywhere along a wall. However, they are commonly found down low near the floor, up high near the ceiling, or along edges of trim or baseboards. The spores attach to your drywall's paper face, which becomes a food source, leading to its propagation.
Conditions necessary for the growth of mold
Constant moisture presence
Food sources like drywall or wood
Humidity
Warmth and darkness
Handling of mold-damaged drywall
When the drywall is removed and the framing exposed, the source of the problem becomes apparent. The cause of the leak ought to be repaired before replacing the drywall. If not, mold eventually reforms over the new drywall. Also, an unresolved leak might create additional damage to framing, siding, insulation, and flooring. SERVPRO checks the exposed framing for dry rot. If present, we remove and replace the affected structure. Our crew also uses a scrub brush or a scrubbing pad to clean mold off framing and thoroughly dry the exposed area using dehumidifiers.
We use the latest methods to inhibit mold at its source. Our team builds a contained area with plastic to avoid spreading the mold spores, which could cause secondary damage. We have products specially designed for mold damage removal on wood like antimicrobial agents.
Signs your drywall has mold
Musty, damp smell
Discoloration and staining on the interior wall
Crackling or bubbling wallpaper
SERVPRO of Northwest Dallas knows what not to overlook in case of mold damage. Call us at (214) 361-7887 for efficient services. We're Faster To Any Size Disaster.