Dealing with Snow and Freeze Damage in Dallas?
3/15/2021 (Permalink)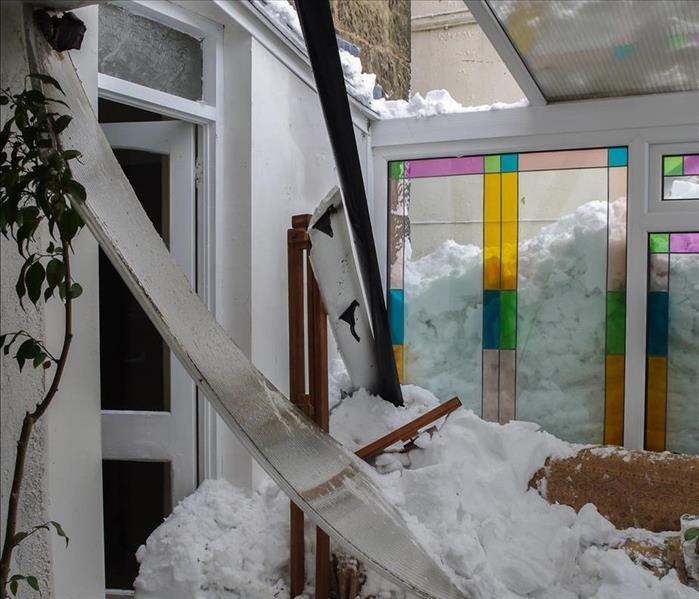 Call SERVPRO to mitigate the snow and ice damage to your Dallas property! "Like it never even happened."
SERVPRO Mitigates Dallas Winter Storm Damage 24/7
Dallas, Texas, also known as "Big D," sports a population of over 1.3 million as of 2019. While residents are no strangers to the occasional Blue Norther cold front causing snow and freeze damage, the Dallas County seat tends toward mild winter.
The economy in the Dallas-Fort Worth area is packed to the brim with publicly traded businesses, focusing on such industries as engineering, telecommunications, and transportation.

According to 2017 data, the top publicly-traded companies in Dallas include:
T&T
Texas Instruments
Southwestern Airlines
Jacobs Engineering
Tenet Healthcare
Dallas' Downtown Arts District
In the north end of downtown Dallas, visitors can find one of the nation's largest arts districts. This contiguous bubble of arts and culture includes the following venues:
The Dallas Museum of Art, which won a 2007 Gold Medal from the American Institute of Architects
The Morton H. Meyerson Symphony Center, known for housing the Dallas Wind Symphony and the Dallas Symphony Orchestra
The Nasher Sculpture Center, a 2.4-acre property next to the Dallas Museum of Art that is packed with sculpted works from Raymond and Patsy Nasher's private collection
Deep Ellum, a residential arts district that was well-known in the 1920s and 1930s as a blues and jazz hotspot, hosting such artists as Blind Lemon Jefferson, Bessie Smith, and Robert Johnson
The Dallas Contemporary, a non-collecting contemporary art museum in the Design District that focuses on public art projects, art education programs, and exhibiting artists from all around the world
SERVPRO Reduces Dallas Snow and Freeze Damage
SERVPRO handles snow and freeze damage in Dallas with an emergency-response approach. Unseasonably cold weather can freeze and burst pipes. Rapid snow melts after unusually high amounts of snowfall can cause flooding. Ice dams on the roof can lead to structural damage. Mold can develop in this environment in as little as 24 hours, often in areas that homeowners cannot easily reach or safely remediate.

Techs mitigate Dallas snow and freeze damage with the following flood restoration processes:
Extraction of water with portable back-mounted units for small-scale or hard-to-reach damages and truck-mounted extraction units that can lift dozens of gallons of water at a time
Structural drying after extracting snow and freeze damage in a Dallas home is performed with commercial-grade air movement and dehumidification tools
Odor control is performed with such equipment as ultra-low volume (ULV) foggers and EPA-registered biocides
While items like carpet and mattresses are not salvageable after a home flood, many other items, such as appliances, electronics, and valuables, can be taken off-site during a pack-out to an approved SERVPRO warehouse for preservation and restoration. The pack-out process allows teams to perform the tasks necessary to repair flood-damaged structures and remediate any potential microbial contamination before bringing belongings back into a residence.

SERVPRO can also manage structural disasters caused by snow and freeze damage to a Dallas property's roofing, plumbing, or structural materials. The flood restoration team coordinates with homeowners and insurance adjusters to ensure that work is performed per the owner's policy.

Property owners can call SERVPRO of Northwest Dallas for emergency snow and freeze damage restoration at (214) 361-7887.