How We Work Against Water Damages in Dallas Medical Centers
1/21/2018 (Permalink)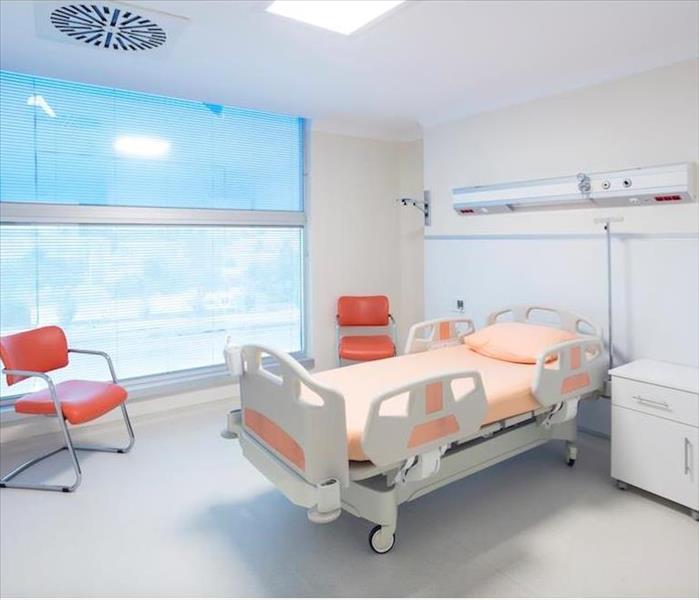 Hospital rooms and hallways need to be free of any damage. When your hospital suffers a water damage event, contact SERVPRO immediately.
Team SERVPRO Makes Water Damage Remediation in Your Hospital a Priority
When water damage happens to a hospital in Dallas, it can cause significant damage to a variety of sensitive instruments, equipment, and edifices in the building. Whether it is a sprinkler malfunction, water feature overflow, troublesome leak, or any other cause of damage, many thousands of dollars in equipment may be on the line. SERVPRO teams respond quickly and responsibly to all water damage crises to ensure that as little damage happens as possible, and that treatments begin quickly.

Saving Equipment

One of the costliest effects of commercial water damage to a hospital in Dallas is a loss of equipment. Medical equipment can be highly sensitive to the effects of water and require specialized contractors and unique certifications to repair correctly. Furthermore, modernized hospitals also possess many standard electronic features such as computers and televisions around the building, which may also require entirely different professionals to look at and repair. SERVPRO maintains an extensive list of local and national partners to help recover as much of your damaged equipment as possible and can conduct inventory services to find out what, exactly, was lost in the disaster.

Getting Facilities Operational

Time is of the essence when we conduct restorations in any medical facility. With facilities offline, patients may not have access to critical aspects of their care and may have to be relocated to another hospital or travel for individual needs. We try to avoid this by working against the clock to return all facilities to full operation in as little time as possible.

Watching for Future Damages

In the clean, well-kept halls of a hospital, it may be surprising that somehow mold and other fungi can grow easily. We monitor damage sites during our restorations and implement preventative measures to stop mold and other after-effects of water damage from becoming another headache.

SERVPRO of Northwest Dallas is a local provider of professional-grade water damage mitigation and restoration services. Call us 24/7 at (214) 361-7887.

For more information regarding Dallas, click here.