Dallas Kitchens, Water Leaks, and SERVPRO Efforts for Restoration
5/22/2022 (Permalink)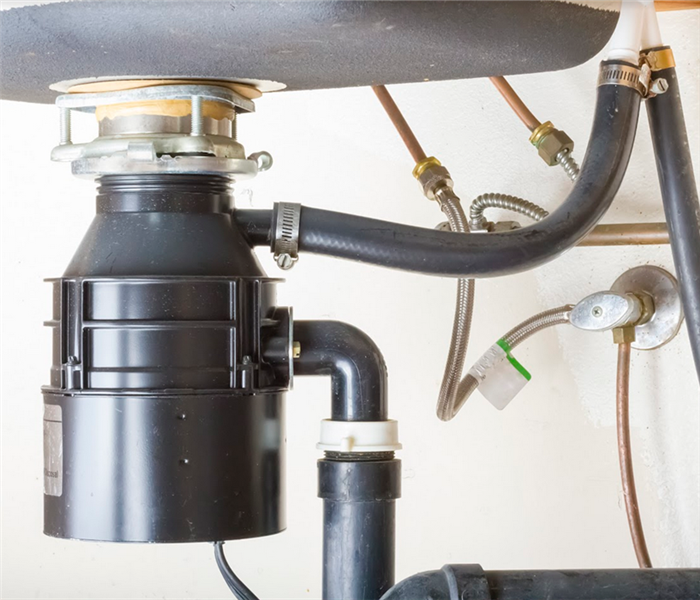 When garbage disposal leaks cause problems, team SERVPRO can help. Contact us 24/7 - 365 days a year - for effective services and equipment needed.
Garbage Disposal Leaks Can Cause Water Damage to Kitchen Floors in Dallas
Many busy households in Dallas rely on built-in appliances to help make daily chores easier and less tiresome. Many appliances use water, like the washing machine or the dishwasher, but the kitchen sink's garbage disposal can also cause problems if it ever begins leaking. Because of the disposal's enclosed location, you might not notice anything wrong until the floor in front of the sink becomes soaked.
As soon as you realize the floor in front of the cabinets is soggy and wet, protecting your Dallas house from water damage keeps it from becoming worse. Because of the high volume of organic matter that passes through your disposal unit, odors can also start emanating from the area. Cleaning the floor and the underside of the cabinet only lasts until the next time you run the disposal.
SERVPRO's restoration, mitigation, and plumbing specialists work in tandem to fix situations like this, starting at the source. Once our building team replaces the disposal with regular plumbing, the cause of water damage no longer exists to create future messes. Our restoration team starts working on drying out the damp, soggy area, including underneath the cabinet. We use infrared imaging to make sure we locate every inch of materials where the water migrated.
Cleaning the area below a broken garbage disposal might seem messy, but no job is too large or too small for SERVPRO. We wipe the area clean, doing everything possible to restore your house "Like it never even happened" for you and your family. Air movers quickly dry areas like this, but do nothing to combat the odors caused by dirty water.
We also spray things down with a disinfectant that helps odor-causing particles to disintegrate, so odors no longer occur. We can also insert gel packs or odor-absorbing beads into the area underneath the cabinet's floor. These work for a long time, making the area much more pleasant. If carpeting still smells off, we can inject fragrances directly into the underside of the carpet. Then we can discuss the details about installing a newer model garbage disposal.
SERVPRO of Northwest Dallas is always ready to take your call at (214) 361-7887.